Ongoing!
DIALOGOS, Fostering More Meaningful Conversations (via Substack)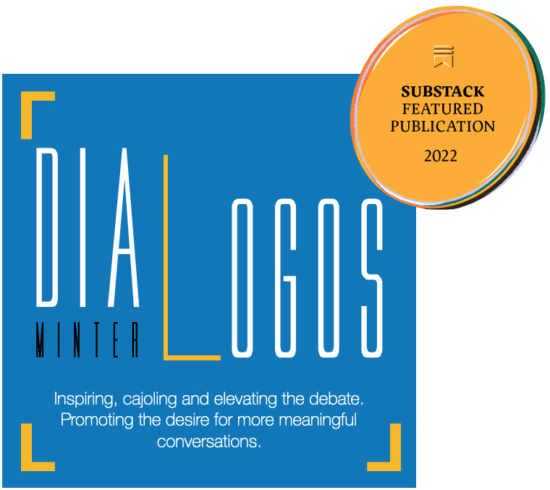 Dialogos is all about encouraging more robust, civil and meaningful conversation. Published in weekly instalments online via Substack so that everyone who subscribes can exchange and contribute, this new book will come out in 2023. Dialogos is about how we can all learn and lean into more powerful, moving debates and discussions at home, in society at large and at work.
Subscribe here to get an advance read of segments or chapters my upcoming book and to receive exclusive material and ideas to foster conversations that move you and those around you. Subscription is free, but if you can afford to make a financial contribution, that'll help keep the initiative going.
---
YOU LEAD, How Being Yourself Makes You A Better Leader (2021)
Your biggest asset in leadership is you. How can you expect people to trust and believe in you, if you aren't truthful and don't embrace your whole self at work?
There is a need for a new kind of leadership; one that bleeds personality and rings true to employees and customers alike who crave authenticity. You Lead, which won the Business Book Award 2022 in the category of Leadership, argues that business leaders deliver superior results, communities of engagement both inside and outside of the company and true values-driven success when they are themselves and come across as genuine.
The book is out as a paperback, ebook and an audiobook as well. Find out where you can get your copy here. Ça sortira en français en 2023, sous le nom La Boussole du Leader. Pour être alerter sur la sortie, cliquez ici.
A selection of advance endorsements:
"A refreshingly original and necessary book on leadership."
-Suki Thompson, Founder/CEO at Let's Reset, Chair Xeim/Oystercatchers

"A great read, a real guide for evolving your leadership skills and style using proven strategies while incorporating the new realities of today's rapidly changing business environment."
-Pat Parenty, President of L'Oreal PPD USA, retired

"Minter is a leader's leader."
-Brian Solis, digital anthropologist, futurist, 8x best-selling author

"A must read if you want to learn the shortest way to the top and leadership: it's inside yourself!"
-Maurice Lévy, Chairman of Publicis Groupe

"The prose is refreshing, straightforward, and helpful for leaders who want to use their intelligence, experience and energy to team and business building by bringing their 'true self ' to work. Necessary now, more than ever."
-Maxine Martens, CEO, Martens & Heads Executive Consultancy
For more information, see the You Lead site.
Upcoming translation: French 🇫🇷
---
Heartificial Empathy, Putting Heart into Business and Artificial Intelligence (2018)
Heartificial Empathy looks at why and how brands should learn to flex their empathic muscle and, with numerous cases and interviews, examines how to encode empathy in Artificial Intelligence. This book is for any business executive looking to accelerate his/her digital transformation, upgrade customer centricity, improve customer service, drive innovation or hike employee engagement. It explores specific business cases and the prominent ethical questions, all the while providing practical advice and concrete tips. It also contains loads of extra resources.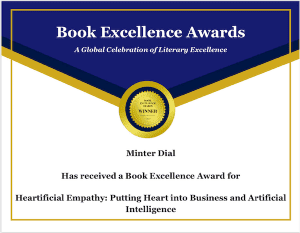 News: Heartificial Empathy won the Book Excellence Award 2019 in the category of Technology and was selected as a finalist for the Business Book Awards 2019 in the category of Embracing Change. See here for the complete set of shortlisted books.
For more information, see Heartificial Empathy.
Upcoming translation: French 🇫🇷
---
Futureproof: How To Get Your Business Ready For The Next Disruption by Caleb Storkey & Minter Dial (2017)
There is a lot of talk about Disruption. Everyone is looking to be the Uber of Something. What does it mean for your business to be Futureproof? How do you ensure that you're responding to the right technology? What thinking is essential when it comes to rolling your sleeves up and implementing solutions well?
Translated into three languages, Futureproof explores the three core mindsets and twelve disruptive technologies that you must have in today's age to help you grow your business, see success and get ready for the next disruption.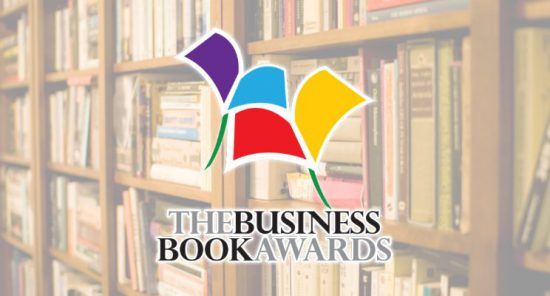 Award Winner: Futureproof won the Business Book Award 2018 in the category of Embracing Change. It was nominated for FT Business Book of the Year 2018.
For more information, including many contributions from technologists, futurists and experts on the blog, see #Futureproof.
Magazine Reviews: The HR Director; Campaign Live (Ed Bussey)
Now available in Chinese on JD.com 🇨🇳 , published by Posts & Telecom Press, Vietnamese 🇻🇳 and Norwegian 🇳🇴.
Upcoming translations: Indonesian and Polish
---
The Last Ring Home, A POW's Lasting Legacy of Courage, Love, and Honor in World War II by Minter Dial II (2016)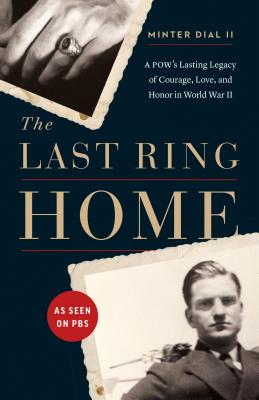 The Last Ring Home is the story of Lt Minter Dial's Annapolis Naval Academy ring, that miraculously made its way home 17 years after he was killed as a POW of the Japanese in WWII. The Last Ring Home is a tribute to Lt Dial, the producer's grandfather, and all members of the Greatest Generation. It is also a journey of self-discovery, having an impact on the filmmaker, his wider family and many other people in its wake. This story, which took over 25 years of research, illustrates the importance of serendipity and the role of good and bad luck in piecing together a personal history of someone who died 70 years ago. The Last Ring Home is to inspire everyone to uncover their own personal history, to keep a foot in their past and the other in the future, and to be thankful for the tremendous present in which we live, thanks to the sacrifices of the those who fought in WWII. Click here for more information, photos and about the eponymous award-winning film.
Award Winner: The Last Ring Home won the Book Excellence Award 2018 in the category of Biography.
"A moving tribute…and a masterful account of PoW experiences in the Pacific." — THE LADY, UK
"…a compelling story, with more than a few devastating twists." — HISTORY OF WAR, UK